The Microsoft Xbox 360 video games console is sleek, stylish and comes with excellent high definition graphics. Games can be played in either standard or in 16:9 widescreen high-definition. As well as gaming, this device gives you access to high definition videos, digital music playback, DVD movies, photo viewing and internet access.
The 360 is truly a next generation gaming machine. It is packed with state- of- the-art technology that delivers excellent all-round performance.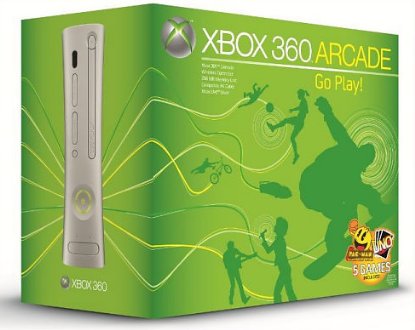 To enhance your Xbox entertainment experience, Microsoft created an online multiplayer gaming and digital media delivery service called Xbox Live. The facility allows you to play games online with friends, chat and share music, videos and digital photos. You are also able to download free demos, trailers, games and more. To use the facility you will have to signup for one of the two services Microsoft currently offers know as Silver Level or Gold Level. The Sliver Level is free while Gold is a paid service.
With the Xbox 360, Microsoft has gone for something for everyone (at least where budgets are concerned). They have released several versions of the Xbox 360 on the market, so you need to give some though as to which would be best for you.


Xbox 360 Arcade


The Xbox 360 Arcade is the entry-level model in Microsoft's line-up of Xbox games consoles. It is seen as the replacement to the Microsoft Core but comes with a slightly higher price tag. Unfortunately, the Arcade does not have a hard drive but this does mean that the device has a thinner profile than its predecessor. The 360 Arcade is shipped with a wireless controller with rumble and 5 Arcade Live titles.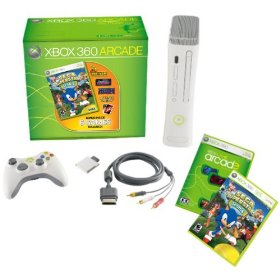 Although the Arcade is a good entry level device, it is somewhat compromised by its internal memory which is shipped only with 256 MB. This will limit your ability to download without the addition of an add-on hard drive sold separately. This limitation is the main reason why the Xbox 360 Pro or the Xbox 360 Elite is worth the extra expense.