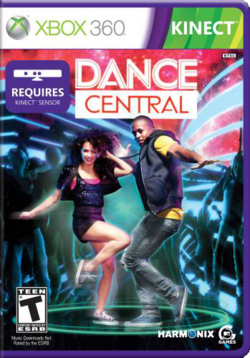 Video Game : Dance Central.

UK Release Date: November 2010.
Genre : Dance.
Platforms : Xbox 360.
PEGI Rating : 12+.
Publisher : MTV Games..
Players :
Gameplay
Dance Central is a music video game for the Xbox 360 that utilizes the Kinect motion peripheral that will track your every move.
Boot up the game, choose your track and get dancing. It really is that simple with the game giving you a variety of songs from Lady Gaga, No Doubt, Bell Biv Devo and many more.
The focus is on you perfectly copying the on-screen dancer to score points, the more points the more prizes with more songs getting unlocked along the way.
The game features over 650 different dance moves spanning over 90 dance routines. There are five modes available:
Perform It: The regular single-player gameplay mode, in which the objective is to complete these dance routines to earn a high score.
Workout Mode: An extension to regular mode in which the number of calories burned are also tracked, along with the workout time.
Dance Battle: Two players compete in a head-to head dance routine battle. The person with the highest score is the winner.
Challenge Mode: This mode increases the difficulty of the game by having four songs combined into one, thus mixing up the dance moves.
Break it Down: A practice mode that allows beginners to learn more advanced dance moves in a step-by-step process.
Related Articles